Another year has passed, and I failed at maintaining a good post ratio once again. Posting everything in both French and English doesn't help, as the translation part is a chore and not really fun to do, so I keep pushing back writing. For this year, I am switching to mainly English language posts, and hopefully it will help me publish more often.
On a positive note, 2017 was a fun and constructive year. I got to tackle new stuff, like vehicle weathering, high level small scale model painting and also got back in doing more sculpting. Two of those came originally from commissions, but have opened up interest for new personal projects. Let's dive in!

Painting
I painted a total of 41 models this years, which is one more than in 2016. That's good in theory, but I only painted a single terrain piece, while I did over a dozen the year before, so the painting total went down overall. I did do more big commission pieces, mainly the 5 3D Wargaming tanks, which took  a big chunk of my hobby time. No real display models or bust either, which is a bummer. I did learn new techniques, mainly vehicle weathering. That's not something I really approached in the past, but I had a blast doing it, and I might try some more in the upcoming year.
Sculpting
I haven't sculpted that much this year, only 3 pieces, but they did bring back the fun of sculpting to the front, and made me start more projects. What started it all was the Captain Harlock/DE Archon conversion I worked on for a client, which ended being an almost complete resculpt. The cartoon platypus closed the year as a fun learning project to get better at sculpting and trying new material, mixing Bees Putty and Green Stuff.
Terrain
The terrain side has dried up this year. I painted a small stone wall that Paul 3d printed for me, but that's it. Not other terrain painted, no new board, nothing. Sad.
Gaming
Guild Ball and Warmachine have been to the forefront of 2017. Overall, that's nothing new from the previous year. Company of Iron, the small skirmish version of Warmachine that came out at the end of the year did see some play time, as well as some other games like Warmaster, Pulp City and Roots of Magic, but overall, less diversity. The death of my main FLGS, Gamers' Vault, where I played a big part of my side games, might have something to do with it.
Podcasting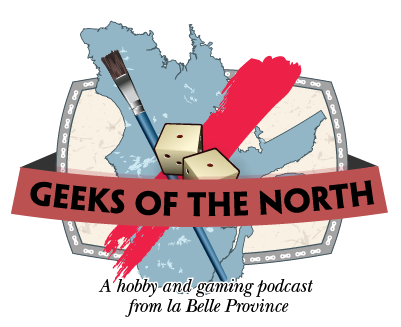 News of the North, the news sub podcast I'm co-hosting, has been going strong. We've been releasing weekly, no fault, and have surpassed 100 episodes published. I sadly can't say the same of the main show, Geeks of the North.  Technical and audio problems have plagued us. Also, our main host and editor, Paul, got swamped with crazy hours at work and got a second baby, so the show has been on the back burner most of the year, releasing episodes only sporadically.
Events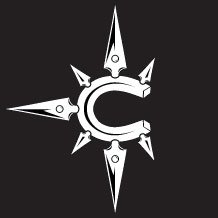 I have not attended any convention or tournament this year as a player. Getting whole weekends off with the family simply didn't work out. I still ran a Guild Ball tournament, and we ran Chaosludik, our 2-day local convention, in conjunction with the Figurines Québec painting contest. It was a great event, with new games added to the line up (SAGA, Bloodbowl, Guild Ball), and we got good feedback as usual. We had planned to also run a new painting event, but that got postponed.
That about sums it up! I hope you all had a great year. Next post, I will share some of my goals for 2018, and stuff already planned or on the work table.