My name is Antoine. I'm a geek, dad, miniature painter, unplugged gamer and general hobbyist from Montreal, Canada. This site gives me the opportunity to share my ideas, my active projects and also to offer my hobby services. I also am a co-host on the Geeks of the North podcast.
What's a zonion?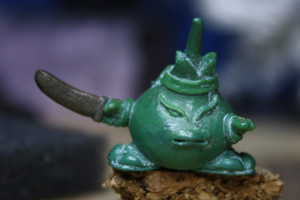 A "zonion" is a small cartoony ninja onion. It's the first sculpting project I completed from A to Z, based on one of my own sketches, more than 10 years ago. I don't even remember where the idea came from, but it sure stuck in my mind.
Email: tonio@zonion.net
Twitter: @eltonioberg
Facebook: Le Zonion
Instagram: @lezonion
CooMiniOrNot: elTonioBerg's Gallery
Podcast: Geeks of the North
Please note that English is not my first language. If you find any major mistakes, please let me know.