I recently stumbled upon Chronicles of the Wayfarer, when an acquaintance reacted to one of their pictures on Facebook. I couldn't stop myself from liking the picture also; it was the spitting image of a Chronopia Firstborns' Knight, in 15mm scale! I have fond memories of that defunct game, especially of the concepts arts and illustrations, and this mini modeled it perfectly, for the size anyway.
I then found out that a painting contest was beginning for a small selection of their line, and I jumped in. Painting at 15mm was going to be a new challenge, especially at a display level, as I never tackled that scale.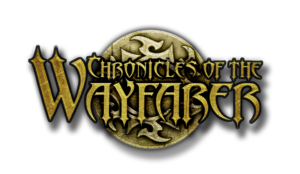 Each participant got four models from the Knights of the Kiln faction, from their various unit types. Think fantasy human knights in really big armours, with a fetish for gears imagery. When I got the minis in my hand, the first thing that struck me was the amount of details for the size, and their sharpness. I've seen 28-35mm minis worse than those by a big margin. There was what look like a mould slip on the Guard with the tower shield and spear, that passed on the shield front that was about impossible to clean, sadly, but outside of that, really good casting.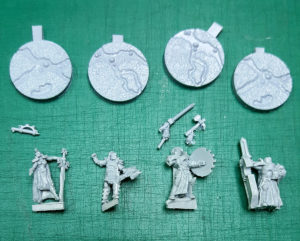 I perused my old Chronopia book as inspiration for the colour scheme, and went with something loosely based on the Black Sisters artwork. I painted her first, than kept that scheme in mind for the rest. Painting was a bit challenging: the models are really small, but the amount of detail on them begs to paint it all. Those were the first models I painted that made me realize that my eyesight might be on the downside. Might be time to get out the magnifier.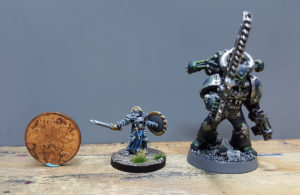 Here is the lot of them, in group and individual shots.
Contest
If you like them, I encourage you to get to the Chronicles of the Wayfarer Facebook page. You'll be able to see all the models painted for the contest and cast your vote for your favourite ones. Likes on a gallery means you appreciate the effort, Love cast your vote (up to three).
Chronicles of the Wayfarer Facebook page:
https://www.facebook.com/Chroniclesofthewa:yfarer/
The direct post to vote for me if you like them:
https://www.facebook.com/Chroniclesofthewayfarer/posts/390288244686077